Spring 2015

New News from Private Realms
---
SPRING has arrived finally! The forsythia and daffodils are in bloom and the dogwoods are budding. The ice is finally gone in the Wittenberg Stream and the trout season is open.
You Can Have Your Home in the Country Now! A Special Offer From Witten Pond
So many of our guests would like to have a home in the country for special events, or just getting away from the busyness of their lives. Those of you who have stayed with us at Witten Pond know it is a haven and perfect for a romantic weekend, anniversaries, birthdays, honeymoons, or just luxuriating in nature. So…
Beginning May 2015 through December 31, 2015, perhaps beyond, we are offering a package of a minimum of three, or more, weekends (each 3 nights) of your choice, whether a holiday or not, at a very attractive rate for advance booking. Please contact me, leeanne@private-realms.com, or call +1-845-542-8640 for details. This offer applies to any of the three Witten Pond homes: Lily-of-the-Valley, Witten Barn, and Gatehouse.
What Else is Happening?
Private Realms updated and launched a new Website to better present the beauty, nature, magic, and experience of our Private Realms Vacation Homes. Please take time to visit our unique homes when you are able:
Witten Pond, with its three elegant homes in nature, Lily-of-the-Valley, Witten Barn, and Gatehouse, enjoyed a great year in 2014 and early 2015. Thank you to all the guests who stayed with us! The fireplaces and woodstoves were stoked and ablaze throughout the fall and winter. So, those who love snowy days and nights in front of the fire, do book ahead for your 2015-2016 Fall and Winter weekends and week-long vacations.
Cimavilla circa 1335, our 14th Century historic stone landmark house in the Swiss-Italian Lake District and Alps, is now available for rent. We offer two independent apartments, each with separate entrance and privacy. They can also be rented together for two couples, or for a large family. And, the main house, Cimavilla Palazzo, is also available. This is a must-see-and-do if you're planning a trip to Europe as Cimavilla is centrally located for easy access to Switzerland and Italy.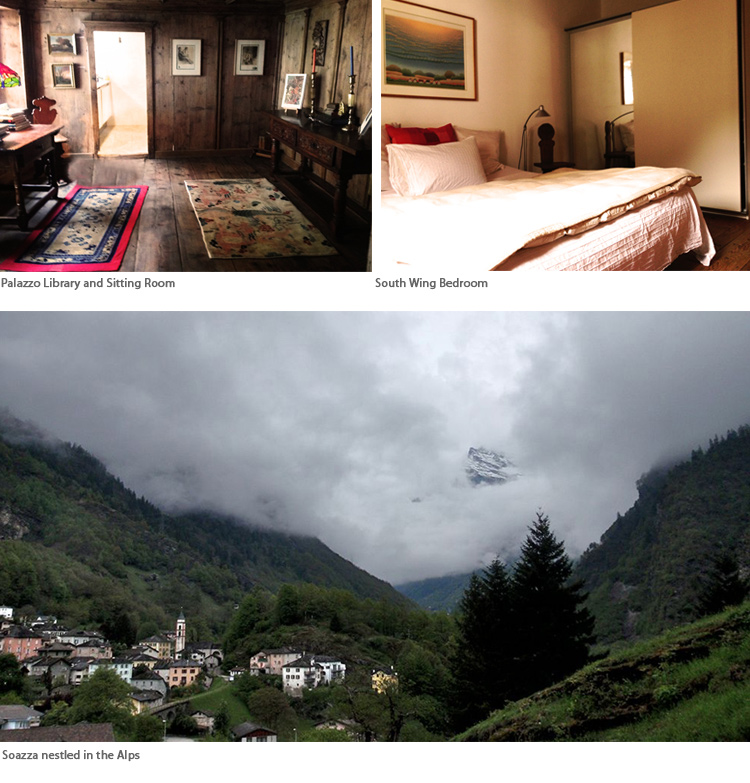 Dolphin House is on an undiscovered island off Florida's southwest coast, not far from Ft. Myers and Sanibel/Captiva. We rented it for the first time this season and it was a smash hit. We were booked back-to-back and still have guests arriving. Think about booking ahead for this charming 3-bedroom Townhome at Safety Harbor on North Captiva Island for Fall 2015 and Winter 2016.

Upcoming Special Events To Help You Plan
There are so many special events and activities to keep in mind in the Hudson Valley-Catskills Region during Spring and Summer when booking your getaway. All links are on the side bar of this Newsletter. However, there are some annual, well-known fabulous do-not-miss venues nearby we wish to highlight: The Phoenicia International Festival of the Voice; Belleayre Music Festival; Woodstock Film Festival; The Ashokan Center … all to tempt you for Witten Pond.
Farmer's Markets are beginning to open with the first flower and vegetable offerings of the summer. Do not let Spring's cooler weather keep you away for Memorial Day. In the unlikely event it turns cold again, Witten Pond has an abundance of firewood to make your stay cozy and warm, while enjoying nature, locally grown food, and a diversity of restaurants. Please check out the sidebar for an abundance of links to many special and ongoing events, which include: music, theater, recreation and natural phenomenon.
Finally, If You're Seeking to Buy a Home…
Witten Pond is a perfect venue for your house hunting. We had many guests this past year that stayed with us so they could make their forays into looking for a permanent home in our Hudson Valley-Catskills Region. We are centrally located to Woodstock, Phoenicia, Olivebridge, High Falls, and Saugerties as well as further north: Margaretville and Roxbury in Delaware County.
We can't wait to see our old friends again and to make new ones. And those of you who have met our Gentle Giant resident cat, Willard, we speak for him too! So, please contact us. We are already booking into August!

SPECIAL EVENTS IN WOODSTOCK AND THE HUDSON VALLEY
MAY 20: 3rd Annual Taste of Woodstock
MAY 22-25: Uke Fest at the Ashokan Center
MAY 24: 2015 Bob Dylan Tribute B-Day Celebration Benefit at Bearsville Theater
MAY 28: An Evening with the Bennet Jazz Ensemble at Bearsville Theater
MAY 29: Levon Helms Studios: Amy Helm Friday Nights at The Barn
MAY 30: Levon Helms Studios: Jimmy V's Billion Dollar Bash
MAY 29-31: OLIVER! performance at the Woodstock Playhouse
MAY 30: Bad Brains: In Studio Recording Session
JUNE 4-7: Mountain Jam – 4 days of music in the majestic Catskill Mountains
JUNE 5: Reelin in the Years- The Music of Steely Dan at Bearsville Theater
JUNE 12: Taste of Country Music Festival at Hunter Mountain
JUNE 13: Ars Choralis at the Maverick
JUNE 20: A Midsummer Night's Dream – A reading by acting professionals
JUNE 27: Woodstock House Tour
JUNE 18-28: Spring Awakening performance at the Woodstock Playhouse
JUNE 27: NEXUS Percussion at the Maverick
JUNE 28: Shanghai Quartet, Benjamin Hochman at the Maverick
JULY 3: Simone Dinnerstein at the Maverick
JULY 4: Elizabeth Mitchell & Family at the Maverick
JULY 4: Adam Tendler at the Maverick
JULY 5: Frederic Hand, Paula Robison at the Maverick
JULY 11, 18: Jazz at the Maverick
JULY 12: Cypress String Quartet at the Maverick
JULY 19: Cassatt String Quartet at the Maverick
JULY 9-19: Chitty Chitty Bang Bang performance at the Woodstock Playhouse
JUNE 20: A Midsummer Night's Dream – A reading by acting professionals
JULY 23-25: The Musical Comedy Murders of 1940 at the Woodstock Playhouse
JULY 24: Actors & Writers, An Evening of Short Plays at the Maverick
JULY 25: Steve Gorn, Samarth Nagarkar, Ray Spiegel, Rohan Prabhudesai – Indian Ragas at the Maverick
JULY 26: Latitude 41 at the Maverick
JULY 30-AUG 3: The Phoenicia International Festival of the Voice
JULY 30-AUG 9: Oklahoma! performance at the Woodstock Playhouse
JULY-AUG: Woodstock Shakespeare Festival at the Comeau Property
AUG 1, 15: Jazz at the Maverick
AUG 2: Escher String Quartet at the Maverick
AUG 5: The Aristocrats w/special guests, Travis Larson Band at the Bearsville Theater
AUG 8: Miro Quartet at the Maverick
AUG 9: Danish String Quartet at the Maverick
AUG 13: Belew, Levin, Mastelotto and Friends at Bearsville Theater
AUG 15-16: International Celtic Festival at Hunter Mountain
AUG 16: Trio Solisti at the Maverick
AUG 13-23: Sweeney Todd at the Woodstock Playhouse
AUG 22: Chamber Orchestra Concert at the Maverick
AUG 23: Ariel Quartet with Thomas Storm at the Maverick
AUG 28: Actors & Writers- A Reading of Paddy Chayevsky's 'Middle of the Night' at the Maverick
AUG 28, 29, 30: The Woodstock Magic Festival
AUG 29: Frederic Chiu and Andrew Russo, duo pianists at the Maverick
AUG 30: Borromeo String Quartet at the Maverick
SEPT 5: Happy Traum and Friends at the Maverick
SEPT 6: Dover Quartet at the Maverick
SEPT 12: Marc Black and Warren Bernhardt at the Maverick
SEPT 13: American String Quartet at the Maverick
SEPT 30-OCT 4: Woodstock Film Festival
ONGOING EVENTS
• Opus 40 sculpture park and museum
• Hiking at Kaaterskill Falls, Huckleberry Point, Overlook Mountain
• Swimming at The Millstream, Big Deep and Fawn's Leap
• Cycling: Equipment and maps at Overlook Mountain Bikes. Scenic rides at Ashokan Reservoir Dam, Cooper Lake
• Town Tinker Tube Rental – experience whitewater tubing on the Esopus
• Mower's Saturday Market – An outdoor market celebrating its 37th continuous season