Cimavilla circa 1335
Amenities
Mountain View
Spa
Kitchen
Balcony
Linens
Washer/Dryer
Luxury Swiss-Italian Lake District Country House (Palazzo) Rental:
Cimavilla circa 1335
Nature. Historic Village. Alps. Lakes. Architecture. Hiking…More.
Private Realms offers beautiful Swiss-Italian Lake District vacation home rentals in the Italian part of Switzerland commonly known as Swiss Italy. The Lugano/Bellinzona area lies on the southern slopes of the Alps in the Swiss-Italian Lake District that consists of Lake Lugano, Lake Como, Lake Maggiore, Lake Idro, and Lake Varese. The Swiss-Italian border is at Lake Como.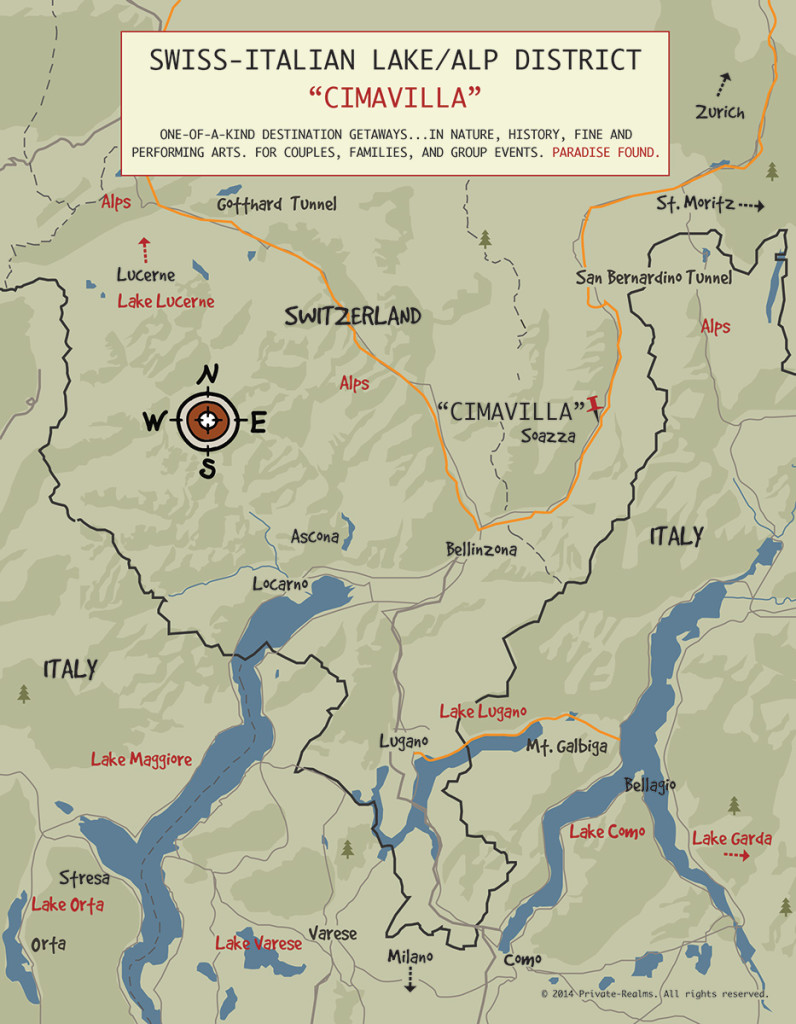 CIMAVILLA CIRCA 1335: THE TICINO
Located in Italian-speaking south Switzerland, Cimavilla circa 1335 is a historic landmark, presenting an eighteen-room patrician stone Palazzo with granite roofs that cascade down the hill to the nearby village of Soazza. This circa 1335 stone palazzo also has private North and South Wing apartments for guests, each with separate entrances.
Located in Soazza, an Italian-speaking village of 350 people, the property looks north to Mesocco Castle, Switzerland's largest castle. It is 10 miles north of Bellinzona (Ticino capital); 10 miles south of the San Bernardino ski area. It is 15 miles northeast of Lake Maggiore, the second largest lake in Italy, placing it halfway between Lake Orta and Lake Lugano. Lake Maggiore extends for about 65 kilometers (40 miles) between Locarno and Arona. Lugano is a mere 25 minutes from Soazza as is Ascona, the home of Hermann Hesse.
All of these locations offer festivals, dining, events, boating, art galleries, and shops galore. However, many of our guests, once ensconced in Cimavilla and the quaint Village of Soazza, rarely leave!
CIMAVILLA'S NORTH WING APARTMENT
| Sleeps | Bedrooms | Bathrooms | Property Type | Minimum Stay |
| --- | --- | --- | --- | --- |
| 3 | 1 | 1 | stand-alone apartment | 3 nights |
The North Wing Apartment consists of three large rooms, converted from the original building, and has been authentically restored under the auspices of the Swiss government to maintain its historic standing. Views north are to Mesocco Castle; our North Wing looks out on the Castle as well as palm trees! The North Wing offers a master bath/spa with Jacuzzi tub, steam-shower, and sauna; the modern kitchen is open and combined with the living room; the master bedroom offers two single beds, joined together. The North Wing is situated on two floors with a handcrafted stairway to the master bath, a private sitting patio, and a common garden with bench and table. Internet and cell service is available: no TV.
CIMAVILLA'S SOUTH WING APARTMENT
| Sleeps | Bedrooms | Bathrooms | Property Type | Minimum Stay |
| --- | --- | --- | --- | --- |
| 2 | 1 | 1 | apartment | 3 nights |
Having its own separate entrance, the Cimavilla South Wing Apartment is smaller than Cimavilla North and has only one bedroom with a queen bed, full bath, and kitchenette. Though more modest in size, this lovely South Wing Apartment offers everything one would need, while exploring the nearby Alps and Lakes. Internet and cell service is available: no TV.
THE MAIN PALAZZO
| Sleeps | Bedrooms | Bathrooms | Property Type | Minimum Stay |
| --- | --- | --- | --- | --- |
| 4-6 | 2 + Studio | 1.5 | main house (10 rooms) | 3 nights |
This 10-room patrician stone Palazzo was completely restored with the help of the Swiss government in 2001-2003; and was furnished in 2004-2006. A unique architectural feature is its covered wooden bridge ('passerella'), connecting what were originally two separate houses in 1709. Another distinctive attribute is an historic wood paneled library with a traditional granite radiant fire stove.
Cimavilla circa 1335 has been painstakingly restored together with its North and South Wing Apartments … all with contemporary kitchens, bathrooms, and decorated with both country antique and contemporary furnishings.
The main Palazzo is a rare, historic treasure that we cherish. However the owner would be pleased to enter into discussion regarding the rental of the Palazzo.
ACTIVITIES
While staying in the Palazzo, you can enjoy beautiful views of the Mesolcina Alps as well as the San Martino and San Rocco Churches. Cimavilla is one of the most beautiful Swiss-Italian Lake District vacation home rentals available: it is private; painstakingly restored; and is centrally located to all of the Italian Lakes as well as art events, restaurants, local grottos … and more.
The main activity while in Soazza will be discovering this small, historic village: its art, history, architecture, and its unsurpassed mountainous beauty while soaking up the unique combination of Swiss and Italian cultures. Nature abounds so one will definitely want to go hiking, walking, and/or skiing in the Alps for a truly once-in-a-lifetime adventure.