The Barn at Witten Pond
Amenities
smart TV/wifi
cable tv
good cell service
spa bathroom
sauna
fireplace/wood
fireplace/gas
radiant floor heating
European kitchen
spring-fed pond
trout stream
linens
A/C
nature
| Sleeps | Bedrooms | Bathrooms | Property Type | Minimum Stay |
| --- | --- | --- | --- | --- |
| 2 | 1 | 1 | estate | 3 nights |
BARN NEAR WOODSTOCK, NY
Nature. Rushing Waters. Mountains. Restful. Pets Welcome.
Witten Pond is comprised of three vacation home rentals on a 15-acre owner-estate, which is bordered by the forever-wild Catskill State Forest Preserve and New York City protected Wittenberg Stream.
» The original home, circa 1910, our recently restored Lily-of-the-Valley, is about charm, history, antiques, and as some say, magic.
» The second, Witten Gatehouse, is a small barn built in 1925 for Lily-of-the-Valley. It is now a contemporary abode with new renovations as of late 2014, providing a fully equipped modern kitchen and a luxury spa-bathroom.
» The third, Witten Barn, is an architectural feat of merging old and new architecture with elegance, luxury, artisan features such as a handmade Tuscan fireplace and local bluestone bathtub … and so much more.
Our Witten Pond homes and property provide perfect vacation home rentals for a romantic getaway, family event, and small business retreat.
THE BARN RESIDENCE
Witten Barn, circa 1835, was totally renovated in 2000-2005. It was uniquely forged into an architectural achievement, embodying all the luxury, elegance, and amenities a world-class vacation home rental should have.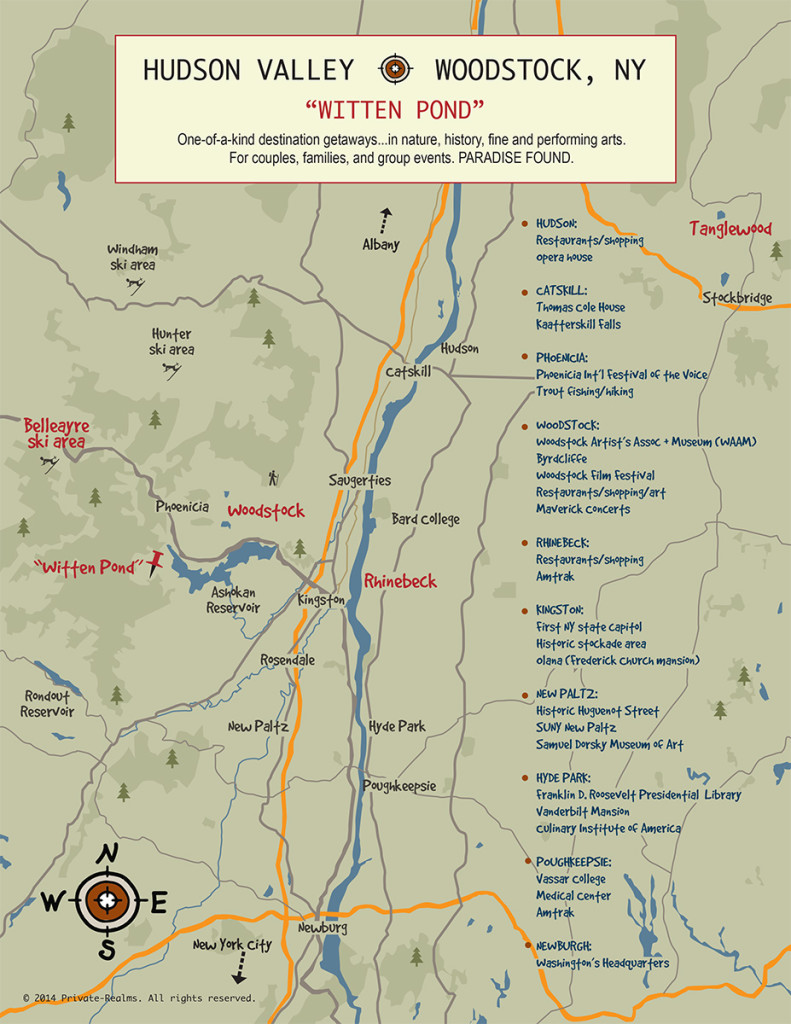 Witten Barn has a spacious European-style living area on the first floor with a Tuscan hand-built, stone, wood-burning radiant fireplace. This first floor Great Room reflects American artisanal and modern furnishings and Hudson Valley fine art with a European flavor to many of its appointments.
The kitchen is deemed extraordinary even by professional chefs. For those who love the art of cooking, and a beautifully equipped, spacious venue plus a dining area with seating for eight, this is your dream come true.
The sumptuous 725 square feet master bedroom and spa suite on the second floor is designed for comfort and luxury. There are cathedral ceilings with views overlooking Witten Pond, and a handcrafted large bluestone-soaking tub plus a steam shower. A sitting area, replete with contemporary leather recliners and a gas log stove, add even more comfort and atmosphere to your relaxation time.
There are radiant heated floors throughout the Barn Residence as well as an automatic generator that helps make your visit assured of convenience should there be a power outage.
Witten Barn is a property that is perfect for the couple or individual that wants luxury, design, tranquility, and inspiration, while being situated in a mountain paradise that is a relatively short drive from Woodstock and other mid-Hudson Valley places of interest.
OTHER AMENITIES
The Barn receives good cellular service and FREE Wi-Fi. Swimming (at guest risk) and fishing (catch-and-release) are permitted in Witten Pond. Wittenberg Stream, a classic trout stream, is just across the road. There is our Tiny House Sauna, which resides on the north side of the Pond and that is on a first come, first serve basis. Our guests have had no problems sharing their time with others. Of course, privacy is insisted upon and respected.