The Gatehouse at Witten Pond
Amenities
smart TV/wifi
kitchen
spa bathroom
microwave
good cell service
gas heating
loft bedroom
fireplace
pet welcome
spring-fed pond
trout stream
sauna
A/C
nature
| Sleeps | Bedrooms | Bathrooms | Property Type | Minimum Stay |
| --- | --- | --- | --- | --- |
| 3-4 | 1 | 1 | cottage | 2 nights |
GATEHOUSE NEAR WOODSTOCK, NY
Nature. Rushing Waters. Mountains. Restful. Love Pets.
Witten Pond, a Private Realms property, is comprised of three vacation home rentals on a 15-acre owner-estate, which is bordered by the forever-wild Catskill State Forest Preserve and New York City protected Wittenberg Stream.
» The original home, circa 1910, our recently restored Lily-of-the-Valley, is about charm, history, antiques, and as some say, magic.
» The second, Witten Gatehouse, is a small barn built in 1925 for Lily-of-the-Valley. It is now a contemporary abode with new renovations as of late 2014, providing a fully equipped modern kitchen and a luxury spa-bathroom.
» The third, Witten Barn, is an architectural feat of merging old and new architecture with elegance, luxury, artisan features such as a handmade Tuscan fireplace and local bluestone bathtub … and so much more.
Our Witten Pond homes and property provide perfect vacation home rentals for a romantic getaway, family event, and small business retreat.
THE GATEHOUSE
The Gatehouse is a unique vacation home rental at Witten Pond. It is perfect for an individual or couple. Nature, panoramic views, rushing water, surround and embrace this charming, cozy venue. It is a place for those who love nature and tranquility, yet provides proximity and easy access to Woodstock as well as the greater Hudson Valley for culture and adventure.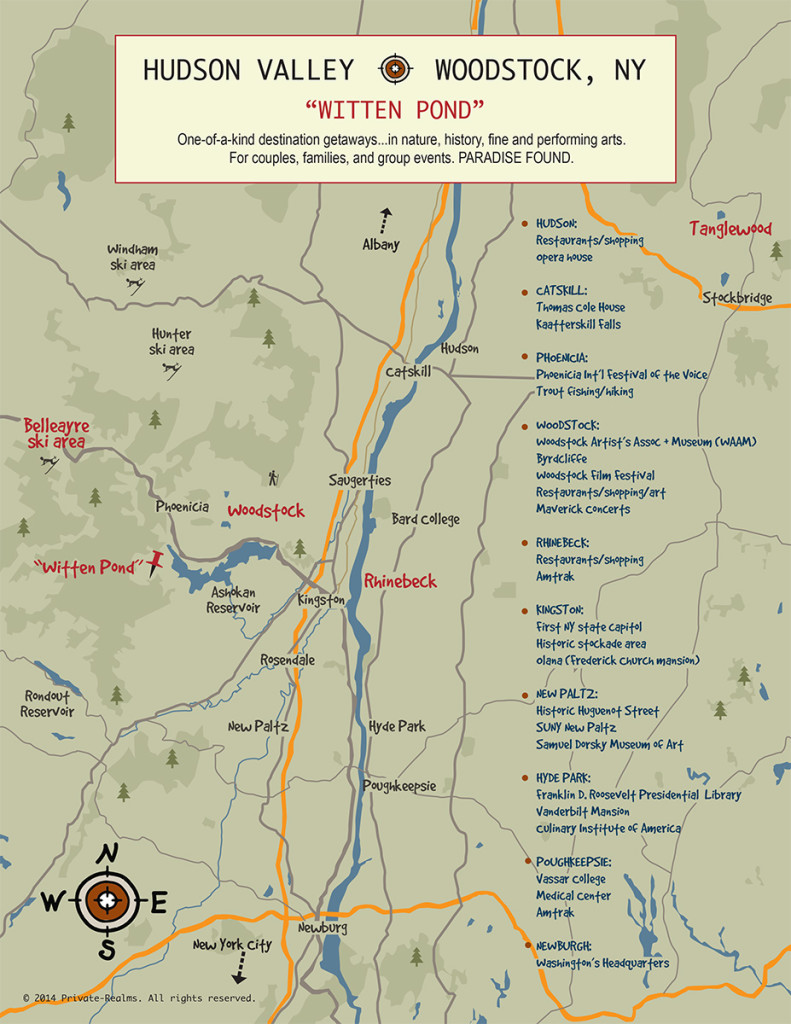 Originally a circa 1925 small barn for Lily-of-the-Valley, the Gatehouse has been lovingly refurbished in a contemporary style with a new kitchen and bathroom/spa. Sitting on Moonhaw Road, it looks upon Witten Pond, an eight foot deep half acre spring-fed trout pond flowing into Wittenberg stream on the other side of Moonhaw Road. You can hear Wittenberg stream and Witten Pond waterfall from the Gatehouse, and a small seasonal stream runs along the north side of the Gatehouse at its back door.
Hand built in classic Catskill style with stonewalls, it has two story cathedral ceilings, windows on five sides, wood-burning Vermont Castings fireplace, pine beams, and bluestone accents. A small circular staircase leads to the second floor loft bedroom, which looks out over the living room and out windows to the north, south, east, and west. The Gatehouse is furnished in a contemporary style and with art from the owner's collection.
The Gatehouse is comfortable, warm, and yet contemporary. The owner's attention to detail is everywhere. The new kitchen is a joy to work in, with new cabinets, appliances, and amenities that make cooking easy and fun. The new bathroom/spa looks up at treetops, creating the sense one is showering outdoors. Windows on five sides (roof included), cherry wood floors, and stream-stone walls inside the house whisper peace, relaxation, and charm.
The second floor open loft bedroom has a skylight and stained glass window, overlooking the living area with its many windows-of-light.
The Gatehouse is a perfect vacation home for those seeking abundant nature, charm, and quietude, yet like to explore and enjoy the outdoors, culture, and history of Woodstock and the Hudson Valley.
OTHER AMENITIES
The Gatehouse receives good cellular service and has FREE Wi-Fi! Swimming (at guest risk) and fishing (catch-and-release) are permitted in Witten Pond. Wittenberg Stream, a classic trout stream, is just across the road. There is our Tiny House Sauna, which resides on the north side of the Pond and is available for private use on a first come, first serve basis. Of course privacy is insisted upon and respected, so reservation times are based on half-day (6 hour) time slots.